Physiotherapy
Physiotherapy can help you build strength and flexibility to get you back to doing what you love.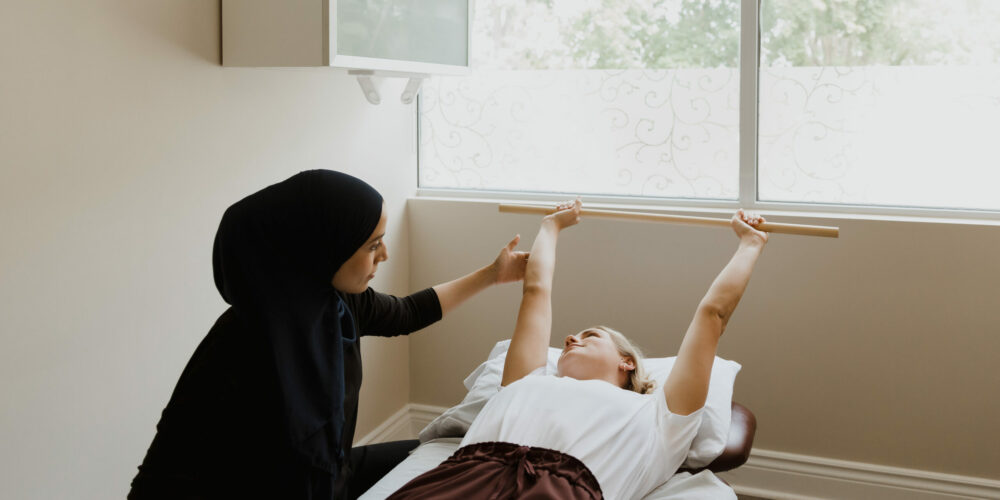 After breast surgery and other medical procedures, including cancer treatments, physiotherapy ("physio") can help you get back to doing the things you love more quickly. Studies have shown that physio helps lessen pain, swelling and fibrosis after cancer surgery sooner than in people who do not receive this therapy. At Breast Rehab, we use physiotherapy extensively to help you recover from surgery and other breast interventions.
What is physiotherapy?
Physiotherapy (also known as Physical Therapy) is an inter-disciplinary approach to finding and treating root causes of injury. Physio combines the therapist's knowledge of the body with the skills to assess and treat various injuries and diseases. It takes into account different aspects of your life and actively engages you in your treatment.
Your body goes through a lot when you have breast surgery or undergo various cancer treatments. Issues that you may face include: tightness of muscles and/or connective tissue; reduced range of motion and joint mobility in the area of surgery; scarring and scar adhesions; changes in posture; and fatigue and general deconditioning. Physio can help relieve or manage these issues so you can get back to doing what you love.
Physio for recovery
Ideally, a Breast Rehab therapist would see you prior to your surgery or cancer treatment in order to form a baseline assessment of your condition and work with you on any necessary pre-rehab therapy. But when this is not possible, we work with you after surgery or treatment to manage their effects and aid in your recovery.
At Breast Rehab, we recommend a full assessment by a physiotherapist 10-14 days after your surgery. Your therapist will assess:
your incision (scar) for healing
mobility and range of motion in the area of surgery
any physical side effects of treatment
your risk factors for lymphedema
hand, arm and leg circumference measurements, if you have had lymph nodes removed from your armpit or groin, to monitor for lymphedema
Following your assessment, we will work with you to develop a tailor-made treatment plan. Our talented team can help you recover from a range of potential conditions.
Loss or reduction of movement/range of motion
Changes in posture and resulting muscular pain
Post-surgical scarring
Fatigue
Muscle wasting and general deconditioning
At Breast Rehab, we use physiotherapy to help you regain movement, build strength, and improve flexibility. Physio may be used in conjunction with other services to support your recovery from surgery and or cancer treatments. If needed, physio will also include lymphedema assessment and education to help reduce your risk or manage symptoms.